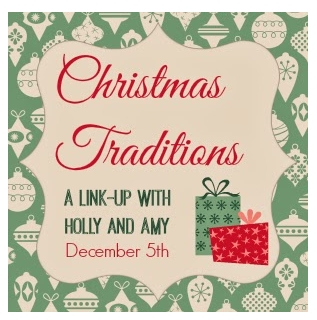 It seems like there are some Christmas Traditions that always stay the same, and there are some that are still evolving now that we're married and creating a life together. With living over a hundred miles away from my family, the holidays can be tough sometimes. Although, I really looking forward to creating and continuing our own Christmas Traditions as the years go on!
My ultimate favorite Christmas movies are The Miracle on 34th Street (not the original one, I think it's from the 90's) and The Grinch (cartoon style)! I try to keep an eye on Christmas movies playing on ABC Channel for any other good ones!
For several years, I've participated in many parades in different cities for my work. We decorate a float and hand out goodies. Another important part of that tradition is spiked hot chocolate! Last year
I made
Michael helped pass out candy. Such a nice man! This year, we skipped out on it because it fell on Thanksgiving weekend and we had company over. The work float actually won 2
nd
place this year so that was neat! The theme was The 12 Days of Christmas and we did 12 Golden Rings. I've got to admit, I'm not very creative therefore all the credit goes to my coworkers!
I love going to Frankenmuth. The entire town is so cheerful and the decorations are awesome! (For those of you that may have read my previous two posts which included this topic, I apologzie!) It definitely puts you in the Christmas spirit. Also in Frankenmuth is a Christmas store called Bronner's. It's actually the largest Christmas store in the world. I could walk around there for hours, but of course Michael starts getting irritated. Especially when it comes to picking out a special personalized ornment. Frankenmuth is also known for an amazing chicken dinner. Love me some winner winner, chicken dinner! We typically walk the main street and check out all the little shops and watch the horse and carriages go by. Someday, I will get him to take me on one!
Michael and I at Bronner's last year
Christmas light tours have always been my favorite since I was a child. I haven't quite outgrown that. Big or small displays, I enjoy to see them all. As a matter of fact, the other night we passed some lights and Michael said in his sarcastic voice "Oooooooohhhhhhh Christmas lights". In other words, he makes fun of my desire to look at Christmas lights.
Last year we started a new tradition that
we
I really enjoyed. There is a house in the middle of no where that has a million Christmas lights set up to go along with music. When you pull up in front of the house you tune into a radio station and it has a little description of the house and then plays music along to the display of lights. It's really neat! I can't image how much work it is to do that! I'm pretty sure last year we went there with a cooler of beer and sat in front of the house for 25 minutes. Amusing!
This is only half the display!
Some other random places we go is Christmas at the Farm with Michael's family the Saturday before Christmas. It's a bunch of food, eurche, jello shots, and drinks at the family farm house. My Mom's side of the family gets together the Saturday after Christmas and we have appetizers and a nacho bar. No one on that side of the family likes to cook so we keep it simple. We also have a farm Christmas party for the farmers that Michael works for on the side throughout the year and my work also has a Christmas party where they take us and our spouses out for a nice dinner. Pretty traditional stuff there….
Christmas Eve Traditions
The last two years, Michael and I go to Candlelight mass at Church. Before church, we go to my Dad's house. Since my parents are divorced, we split up the days rather than running to a million places in one day... Ain't nobody got sanity time for that! For as long as I can remember, I've went to my Dad's on Christmas Eve. We have dinner, drinks, play games, and exchange a couple gifts.
Up until a couple years ago when I lived at home, the highlight of my Christmas Eve was sharing the excitement with my little sister, Jasmine. I still do miss sharing that excitement with her.
Christmas Eve with my Dad 2012
Before I became a big girl and moved out of my parents house, Christmas morning meant waking up at the crack of dawn to watch my little sis opening gifts and read a note from Santa. I'm not going to lie, the past 3 years without that haven't quite been the same but I'm finally getting used to it. Michael and I have since then created our own tradition of sleeping in, exchanging gifts, giving the dogs a new toy and entertaining them for a while before going to Michael's Mom's for the day. She cooks lots of food and we lounge around her house all day. We also do a Chinese gift exchange where everyone brings a small gift and we all draw numbers. We put the gifts in the middle of the room and whoever has the number 1 chooses a gift and so on. You can also steal a gift someone else opened if you really like it. It's really fun! There's always one gift that everyone fights over!
Christmas morning 2012
Christmas cookie exchange
Ice skating in Detroit around the huge Christmas tree downtown
Christmas Tree Tour
Pajama Exchange for our little ones on Christmas Eve


Now that I've typed that all out, it sure does sound like a lot of Holiday traditions! Maybe that's why this month always flies by so fast! Only 20 more days! Merry Christmas!
XO, Julie